BLOG - Why Your Neck is Tense & One Thing You Can Do Everyday to Help
Why Your Neck is Tense & One Thing You Can Do Everyday to Help

Does your neck hurt?
I'm not surprised.
If you're like most people, your head is probably not in the best position right now while you're staring at this computer screen.
When clients come in to see me for massage, I usually start their sessions with this question: "Anything you'd like me to focus on today, an area that's particularly tense or painful that you need addressed?" Almost everyone's answer … "neck and shoulders."
And as I watch them walk across the room to hang up their coat or sit down and fill out a form, I can easily see why they've got those golf ball sized knots right where their shoulder blades meet their necks. You know the ones I mean.
So many of us get them, and it does have to do with where we carry our heavy heads.
If you think about it, it's an amazing thing that eons ago we human primates started walking around on just our legs (without the supportive, balancing use of our hands or knuckles on the ground). Our vertebrae evolved beautifully to hold us upright, vertically supporting us – heavy heads and all.
Fast forward to today though.
In fact, pause right now… where is your head?
Is it stacked nice and high on top of your vertebrae?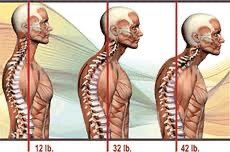 Or is it jutting forward a little (or a lot) because your brain wants to get closer to this computer screen?
It seems that the bigger our brains have gotten over the centuries, the more we are "in our heads."
We walk around head first. We hunch over and stare into screens, not even aware of our bodies from the neck down half the time… until that juncture between head and body knots up in pain.
And so here's the physics of it all. Your head is like a bowling ball.
Really. It's heavy.
Imagine this experiment (or even try it, if you've got a bowling ball stashed away in your closet — but PLEASE be careful… I don't want you to drop it on your head!)
Imagine extending your arm up over your head with bowling ball in hand; balanced and supported on stacked arm bones, shoulder relaxed. Now imagine shifting your arm forward slightly from the shoulder and holding that bowling ball up. How long do you think you'll last before your arm muscles get really fatigued? And if you could never put that ball down, think your muscles might develop some strain in that position? You bet!
Your neck muscles are definitely quite amazing.
However, as amazing as they are, they really aren't meant to support your bowling ball of a head by themselves. That's what your spine is for.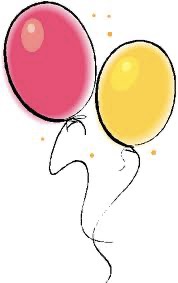 But when you've constantly got your head forward, you're shifting the physics of how your vertebrae are supposed to work. As a result, you're making your muscles overwork and do more than they were designed to. Definitely an invitation for strain & knots to show up in your muscle tissue.
So, am I suggesting that you pull your shoulders and head back, giving yourself three chins in an effort to sit up "straight"? Not at all. That's just another strain in the opposite direction. Instead here's the visual I love to use, because as you may have heard me say, and I'm sure you'll hear again – movement is key.
Pretend that you have helium balloons attached to your ears

— and float yourself up tall. Bowling ball head and all. When you do this, those curled forward shoulders will right themselves. Your rib cage, spine and head will all line up more naturally. And you'll start to eventually feel some relief in your tired neck muscles.
Let there be a fluidity in how your skull "lives" above your vertebrae.
No straining up, back or forward.
Just lighter.
And then breathe.
The key is to catch yourself often … to undo the habit.
So, try it.
Conduct your own "personal awareness lab" — at least for a day.
Ask yourself all day long – when you're driving, standing in line at the grocery store, sitting in front of the computer (like right now)… where's your head?
Then float yourself up tall.
And make note of anything you notice. Your breathing? Your tension? Your perspective?
I'd love to hear your thoughts and observations. Add your comment below.
Do you notice a difference?
How else do you alleviate your neck & shoulder tension daily?
If you found this helpful and would like to share your thoughts - or if you'd love some daily inspiration and motivation for your wellness, self-care, and empowered living - I invite you to come join our private Living from Center Community Facebook group. I'd love to connect with you there.